$99 Tyre Balance, Rotation & Alignment Offer
Neglected wheels can lead to uneven tyre wear, vibrations and mechanical problems in the car's suspension and steering systems.
A wheel balance will tweak your tyres to ensure they are an the optimal balance.
Our tyre rotation will rotate your tyres to ensure a more even tread wear, prolonging their life.
For only $99, our trained tyre technicians will Balance, Rotate & Alignment all of your wheels.
With all the wheels balanced and rotated, you will be ensuring the least amount of wear on your tyres, the safest option for you and your car, and the most cost effective solution in the long run.

Why is a Wheel Balance, Rotation & Alignment important?
Identifying Balance and Rotation Problems
Other signs to look out for include:
The steering wheel logo is off-centre

Vibrations or shaking in steering

Loose steering

Uneven tyre wear
As a precaution, it is best to speak to your Motorama Tyre & Service specialist at the first sign of any of the above.
How Often Should I Have Tyres Balanced and Rotated?
Driving on harsh surfaces and driving long distances cause a great deal of damage to your tyres. As a good rule of thumb, it is best to get your wheels rotated every 6,000-10,000kms or every 6 months. This ensures your car is at a constant level while driving.
Tyre balancing is dependent on the type of car you have and how often you drive.
It is recommended that your tyres are balanced every 8,000-10,000kms or every 6 months.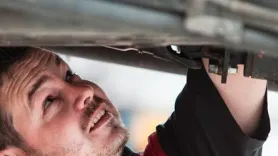 When it comes time for a service, you may not know what to budget for, and if your car's running fine, then you may not feel like you need to bring your car in at all. Read our Servicing Insights blogs to get some quick, easy tips on how to avoid large, unpleasant bills and how to extend and improve the life of your car.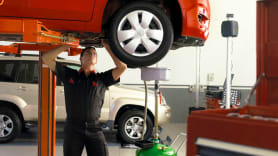 You might have heard of the terms wheel balance and rotation before, but when it comes to your vehicle, what do they mean? And how often should you have this process carried out to ensure your car remains in top condition?