Motorama $69 Wheel Alignment
If unattended, unaligned wheels can lead to uneven tyre wear, vibrations and mechanical problems in the car's suspension and steering systems.
A regular wheel alignment will;
Improve your vehicle's overall safety and handling

Increase the longevity of your tyres

Improve fuel consumption.
With all your wheels aligned, it ensures the least amount of wear on your tyres, saving you money in the long term.
For only $69, our expert Motorama Tyre & Service technicians will align your tyres. The wheel alignment can also be done during your regular service to save you time, or separetly.
WHEN DO I NEED A MOTORAMA TYRE & SERVICE WHEEL ALIGNMENT?
Just like engine problems or leaks from your radiator, uneven wheels will give you a sign. A common sign of needing a wheel alignment is when your car starts to veer to one side of the road. Other signs to look out for include:
Steering wheel logo is off-centre

Vibrations or shaking in steering

Loose steering

Uneven tyre wear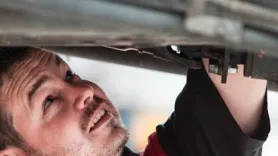 When it comes time for a service, you may not know what to budget for, and if your car's running fine, then you may not feel like you need to bring your car in at all. Read our Servicing Insights blogs to get some quick, easy tips on how to avoid large, unpleasant bills and how to extend and improve the life of your car.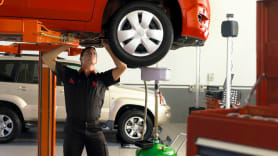 Preventative maintenance is essential for ensuring your vehicle is as safe as possible. Regular inspections at a reputable car service centre can also help save you money in the long run, as your vehicle is less likely to suffer major breakdowns or failures if it is properly maintained.